Missional Groups
Group Name: ESL Cafe
Leader: Tim Cowley
Place: Renaissance Cafe on NE 122nd, Portland
Time: various. contact Tim for info
Contact: babatim@gmail.com; 503-329-3052
Ever want to just hang out with refugees but can't seem to find out just where to meet them? Consider spending some time at the ESL Cafe where you can help with informal English conversation and see where things go from there. Think of this as your fishing pond where you can build ongoing friendships. We'll give some introductory training to get you going.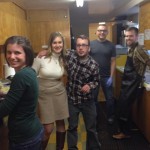 Group Name: Well Being
Leaders: Jon and Holley Gedney, Eric and Annabelle Davis, Jim Savino
Place: The Well basement
Time:
Last Sunday of every month
2-5PM
Contact: wellbeing.meals@gmail.com
Well Being is a chance for the Church to be the hands and feet of Jesus to those in the local HIV/AIDS community. Once a month we prepare and serve a meal for 30-60 guests. More importantly, we share life together. Please join us in loving this community of friends. All you need to bring is a smile and a serving heart.
Volunteers: We would love to hear from you if you have a group who would be interested in preparing a meal, whether it is a 3D group or just a group of friends looking to help. We would also love to hear from you if you have a desire to help serve a meal with us. Meals are served the last Sunday of ever month. Setup is at

2PM

and the meal is served around

4PM

. Please feel free to email us with any further questions you might have.